Touring Daytona Beach Assisted Living Communities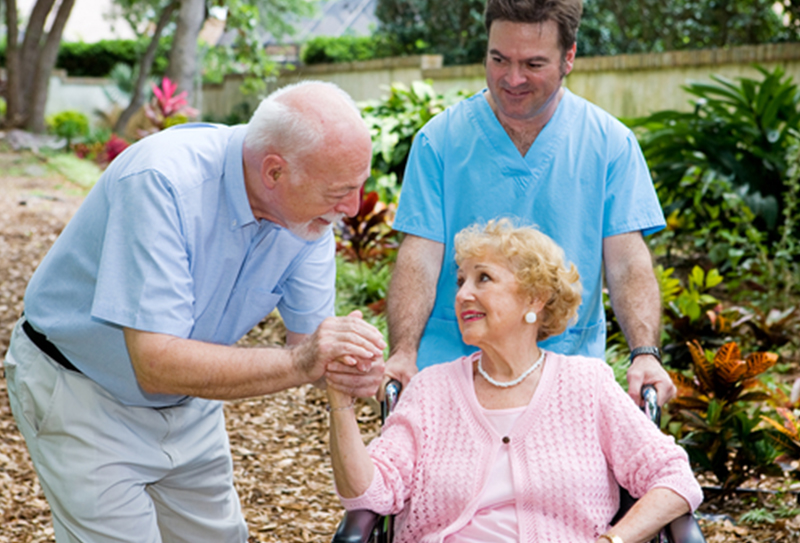 When choosing an assisted living community for your loved one, it's extremely important that you visit the location before making a final decision. Visiting a facility in person can tell you far more about it than online photos, reviews, and phone calls with the staff. If you're touring Daytona Beach assisted living communities, we strongly encourage you to schedule a tour of The Sarah House as well. But no matter what assisted living community you're visiting, it's important to have a checklist of questions to ask and things to look for. Here are some suggestions of what you might want to include on that checklist.
General Questions
Here are a few basic questions you should ask regarding the facility:
How many units are in the community/facility?
How many are currently available?
Can you tour the available units and other certain spaces?
What are the visiting hours like?
Is there a waiting list to become a resident? If so, how long might it take to be admitted?
The Sarah House has four different locations near Daytona Beach, with two different types of living available. Our "congregate living" facilities house up to 35 residents, while our "cottage living" facilities house only 6 residents at most. Both private and semi-private rooms are available. The availability will vary for each facility, so be sure to ask when you take a tour!
Observing the Facility's Grounds
While you're on your tour, keep an eye out for these things:
Are the grounds well maintained, clean, and easy to get around in?
Is the community in a good area?
How close is the facility to essential amenities (i.e., grocery stores, restaurants, etc.)?
Is there a hospital nearby?
Is there public transportation available nearby?
All of our facilities are located in Ormond Beach, just five minutes away from Daytona Beach. This puts us in close proximity to stores, shopping malls, restaurants, and hospitals, while allowing residents to enjoy a quieter, more desirable neighborhood.
Observing Staff and Residents
Your initial impressions of the staff and residents should be a major factor in your decisions about whether or not to place your loved one in this facility. Here are a few things to be on the lookout for:
Are you greeted by a staff member upon entering?
Was it easy to locate the main office?
Does the staff seem professional and eager to help?
Do the residents appear happy and properly cared for?
Are the residents interacting with one another? Do they seem to have developed real friendships?
Our staff members are always eager to greet those touring our facilities! Visit any of The Sarah House's locations, and you'll quickly notice how happy and comfortable our residents are here.
Questions about Staff
While your impressions of the staff are vital, it is still important to ask key questions about the staff members at any facility you tour. Here are a few you should definitely be asking:
What credentials do the staff members have?
What is the usual resident-to-staff ratio? Is a caregiver easily available to residents at all times?
What is the hiring procedure for staff members, especially the doctors and nurses?
Do staff, doctors, and nurses take continuing education courses?
What hours are administrators available for questions from residents' family members?
We maintain a low resident-to-staff ratio at all times in order to ensure every resident receives the care they need. We have an "eyes on" policy to resident care, which means there is nearly always a staff member within sight of your loved one. We also offer 24-hour communication for our residents' family members, so if you ever have any questions or concerns, you're welcome to contact us!
Questions about Amenities
For an assisted living community to truly feel like home, it needs to offer more than just basic care. So be sure to ask some of the following questions about the amenities the facility offers:
Are there regular social events and activities at the facility?
Do they ever hold off-site trips and events?
Is there a common area for residents, with access to games, cards, movies, etc.?
Do they provide services like laundry and housekeeping?
Is there a strict meal schedule, or a flexible dining option?
Is there an extra cost for any of these services and amenities?
At The Sarah House, we provide regular activities to keep our residents engaged and excited about their new community. We encourage socialization, and our common areas are available for residents to use throughout the day. Our monthly costs are all-inclusive, which means your family member will receive housekeeping and laundry services, along with an open-dining meal plan, for a single monthly cost—no surprise fees or unexpected charges.
We strongly believe that you'll notice the difference between our facility and other assisted living communities from the moment you step in our doors.