5 Reasons Why The Sarah House Offers All-Day Dining Options for Our Residents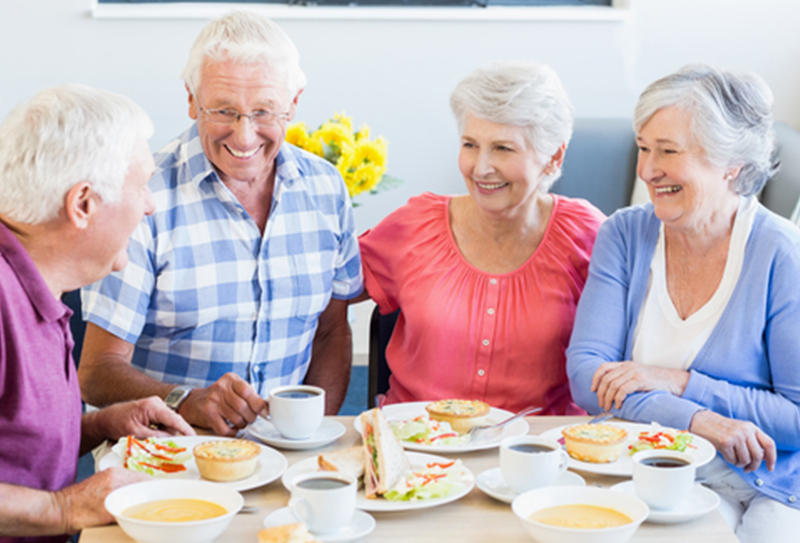 Each one of The Sarah House's assisted living facilities offers all-day dining services. This means that residents are able to get the foods of their choice throughout the day, and aren't held to a strict dining schedule, or even to a strict menu. So why do we feel this is the best dining option for our residents? Here are just 5 reasons that we've chosen this dining style for our assisted living facilities.
Freedom of Choice
We want to maintain as much independence and freedom as possible when they move into The Sarah House, and all-day dining is just one way we can do that. This style of dining means that our residents have more freedom to choose what they eat and when they eat it. We recognize that every person eats differently, and at different times of day.
If your loved one likes to sleep in, they don't have to worry about missing breakfast hours; they can have breakfast late into the afternoon, if they wish. If your loved one likes to have a snack late into the evening, before they go to bed, our caregivers are happy to provide that for them as well. This freedom to choose what to eat and when allows our residents to have more control over their own lives, which is an important goal for us here at The Sarah House.
Mealtime Socialization
In many senior care facilities, all-day dining programs are also referred to as "family-style dining," and there's an important reason for that: All-day dining encourages are more familial, social atmosphere than plated, cafeteria-style dining options. The Sarah House always aims to help your loved one feel right at home when they join us here, and all-day dining is just one way for us to do that.
With this style of dining, residents are more prone to socializing as they eat, and can choose to eat at certain times in order to enjoy meals with their friends. In this way, our dining program helps residents to feel more like family with every meal they enjoy here.
Making Healthy Choices
As we mentioned earlier, we like to encourage our residents to maintain as much choice and control over their day-to-day lives as is reasonably possible. The freedom of choice given to residents through all-day dining plans also helps them to become active participants in their own health. With the variety of healthful choices we provide at The Sarah House, our residents can make conscientious decisions to support their own healthy diet.
In fact, in a study conducted in Dutch nursing homes, individuals who were offered all-day dining were better able to maintain a healthy weight than those who were served plated meals at scheduled times. This is just one example that shows all-day dining is truly the better option for supporting our residents' overall health and wellbeing.
Improved Motor Skills and Muscle Control
While the exact reasons behind this benefit aren't entirely clear, many studies have noted that residents in nursing homes have better motor skills and greater muscle control when dining on a family-style dining plan. This may be due to the fact that most all-day dining options allow residents to serve their own food, encouraging them to continue using those fine motor skills on a daily basis. Whatever the reason behind it, this is just another way that our chosen dining program can benefit your loved one.
Happier Residents
Finally, and perhaps most importantly, all-day dining programs simply make residents happier. In the same study mentioned above, the residents who were on the family-style dining plan reported a higher quality of life than those who were served in a more traditional manner. And that reason alone is enough for us to continue offering all-day dining at every one of our Florida locations.
Here at The Sarah House, your loved one's happiness and comfort is our number one priority. And all-day dining programs are just one of the many ways that we put their needs first. While other facilities may find scheduled, plated dining options to be easier for their staff, our caring staff members are always available to prepare meals and healthy snacks for your loved one throughout the day.
If you're concerned that an open, all-day dining program might make it difficult to ensure your loved one is eating properly, don't worry; our staff is trained to observe residents to ensure proper nutrition and adequate hydration are provided at all times. If you have any further questions about our dining services, please reach out to The Sarah House today.